Welcome to Albury IT Solutions. We provide a complete support service for all your IT needs
Whether you require computer repair services or professional IT support, our technicians will provide a reliable and personal mobile IT support & maintenance solution of the highest standard. Guaranteed prompt onsite or remote service to suit your every need and get you back up and running with minimal down time.
We currently offer onsite IT Support & services to all of the Border/North East and surrounding areas. Our team of trained specialists can take care of your IT needs and provide excellent service and top quality advice. They specialise in onsite repairs, Server Maintenance & Network Maintenance, installations, Macbook & iMac repairs, upgrades and virus removal, and are Windows Small Business Server specialists.
Whether it's a major crisis or just a simple problem call Albury IT Solutions for all your emergencies and a fully trained IT Specialist will be dispatched as soon as possible to get your business back up and running.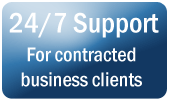 Albury IT Solutions
ABN: 22 156 058 525
02 6023 1294
info@alburyit.com.au